In this episode: Peter and Rachel Zoom into Ronnie Barnett's amazing* record room. Ronnie has been helping you find the records you want, without judgement, in mall stores and legendary shops from Texas to California. including the Record Den, Benway Music, Amoeba in Hollywood and currently at Record Surplus in Los Angeles. Oh, Ronnie also played bass in both The Muffs and Visqueen.
Ronnie and Rachel re-live in-store moments from the road, we learn about Paul McCartney's public restroom secrets, we get a trip up the escalator and past the food court with Bruce, and a dozen other nuggets from inside a record store.
*Take a closer look at Ronnie's amazing collection in this documentary series, Ronnie's Boom Boom Room.
Ronnie: The Visqueen years
Ronnie and the staff at Record Surplus
Thank you
A huge thank you to our sponsor Pagliacci Pizzafor delivering us joy and pizza in LP-sized boxes this year…and every year.
Music mentioned in this episode
In stock at EasyStreetOnline.com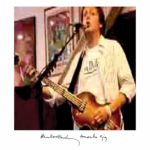 Paul McCartney ~ Amoeba Gig)
In stock at EasyStreetOnline.com
Theme Music
Our theme music is, of course, recorded in a record store. We salute The Sonics!
The Sonics ~ Live at Easy Street
In stock at EasyStreetOnline.com
Record Stories is brought to you by Lake & Pine design studio, Ruinous Media, and Easy Street Records. Produced by Peter Hilgendorf, Patrick Kearney, Chris Duryee, Joe Plummer, and Rachel Flotard.
The theme music you heard in this episode is courtesy of The Sonics and all other sounds are courtesy of Ruinous Media.